On Sept 24, 2020, the U.S. Commodity Futures Trading Commission (CFTC) filed a complaint against PaxForex (www.paxforex.com), an offshore CFD broker operated by Laino Group Limited which is a company registered on St. Vincent and the Grenadines and established by notorious Wilfred Services. The Commission alleges that PaxForex is offering services without having the legally required FCM registration. PaxForex is accepting cryptocurrencies as a means of settlement.
The case in a nutshell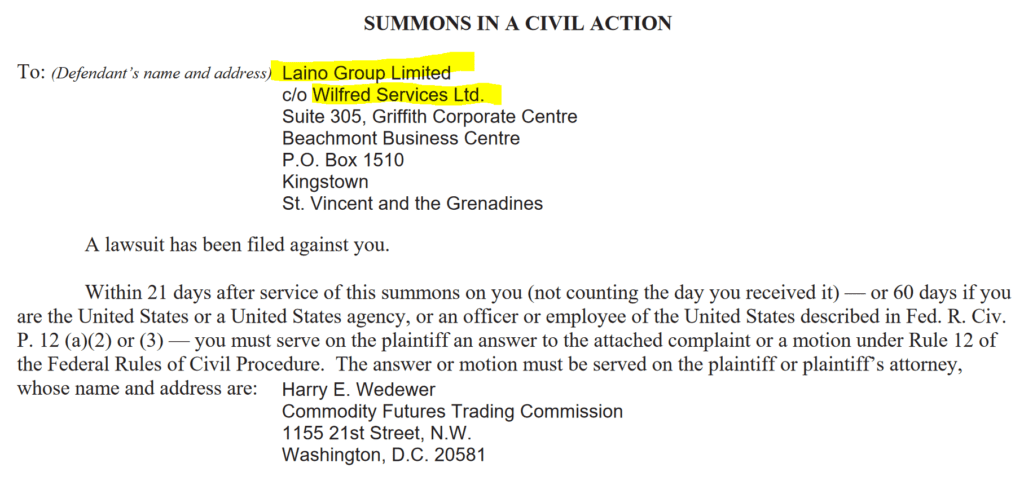 In its complaint with the Case No 4:20-cv-03317 filed with the Texas Southern District Court, the CFTC claims that PaxForex since at least March 2018 has been illegally soliciting or accepting orders for leveraged, margined, or financed retail off-exchange forex, precious metals, and digital asset transactions from U.S. customers without being registered as Futures Commission Merchant ("FCM") with CFTC, as required. Thus, PaxForex violated several sections of the Commodity Exchange Act ("Act").
Through its platform and website, PaxForex solicits or accepts orders from customers, for transactions in "Contracts for Difference" ("CFDs") referenced to the prices of commodities including certain foreign currencies, precious metals, and digital assets. Defendant also solicits customers through its PaxForex YouTube channel. CFD trading on the platform is settled in U.S. Dollars and bitcoin (BTC), among other assets.
Relief requested
The CFTC requests the court to enter an order
an order finding that PaxForex violated Sections 4(a) and 4(d) of the Commodity Exchange Act ("Act")
an order of permanent injunction enjoining PaxForex from engaging in any commodity-related activity.
an order directing PaxForex to pay a civil monetary penalty for each violation of the Act
an order directing PaxForex to disgorge, pursuant to such procedure as the Court may order, all benefits received
An order directing PaxForex, as well as any successor thereof, to make full restitution
An order directing PaxForex to rescind all contracts and agreements,
An order directing that PaxForex make an accounting to the Court of all of its assets and liabilities, together with all funds it received from and paid to customers
Laino Group Limited is another scam operating entity that has been established by the notorious Wilfred Services Ltd (www.wilfredinternationalservices.com) on St. Vincent and the Grenadines. This company formation agency has been exposed as a scam facilitator in many other scams already.