The two Israeli FinTech entrepreneurs Eyal Nachum and Tamir Zolovsky are not having a good time right now. Amidst the COVID-19 pandemic, their two licensed EU e-Money Institutions Bruc Bond and International Fintech saw their licenses terminated. In the case of Bruc Bond because of systematic compliance violations and problems with money laundering. Nachum, Zoltovsky. and their various payment processors have a long track record in the scam area.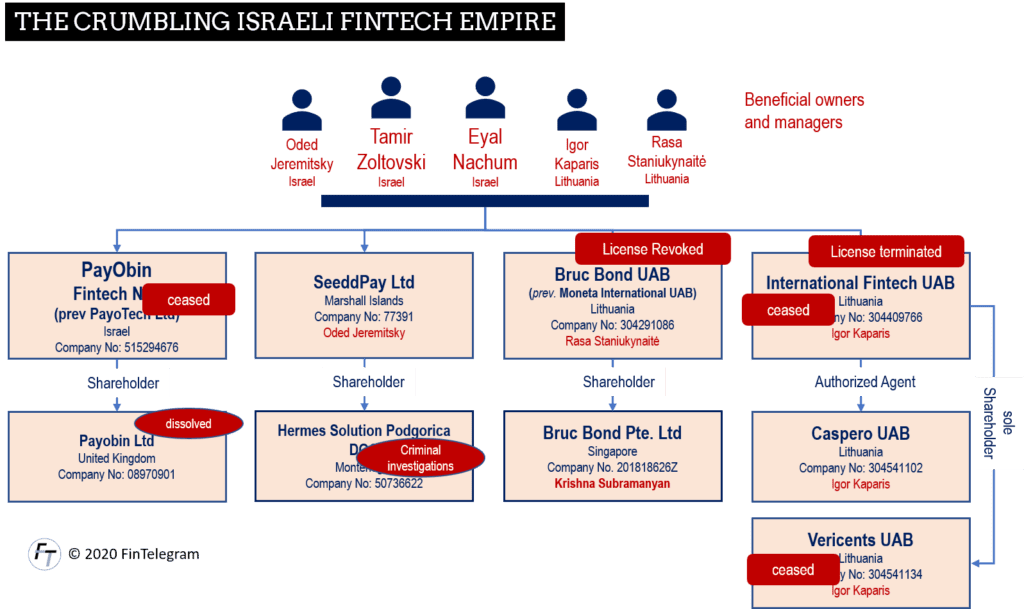 Binary options scam facilitators
Through their platform PayObin, which was operated via Fintech NV Ltd (previously Payotech Ltd) in Israel at that time, Eyal Nachum and Tamir Zoltovsky were one of the first addresses for the Israeli Binary Options scammers. With Payobin and offshore companies such as SeeddPay Ltd on the Marshall Islands or Hermes Solution Podgorica DOO in Montenegro (OpenCorporates record), they facilitated binary options scammers and happily laundered their money.
FinTelegram has received documents from the criminal file of the public prosecutor's office in Montenegro. They include bank statements of Hermes Solution Podgorica, which prove that large binary options scams were facilitated with payment services. Furthermore, we have emails from Eyal Nachum, where this customer explains how the process of payments via SeeddPay (Marshall Islands) and Hermes Solution Podgorica works. On the picture below are some extracts from these criminal records. Nachum and Zoltovsky used the Israeli Oded Jeremitsky as frontman and monkey.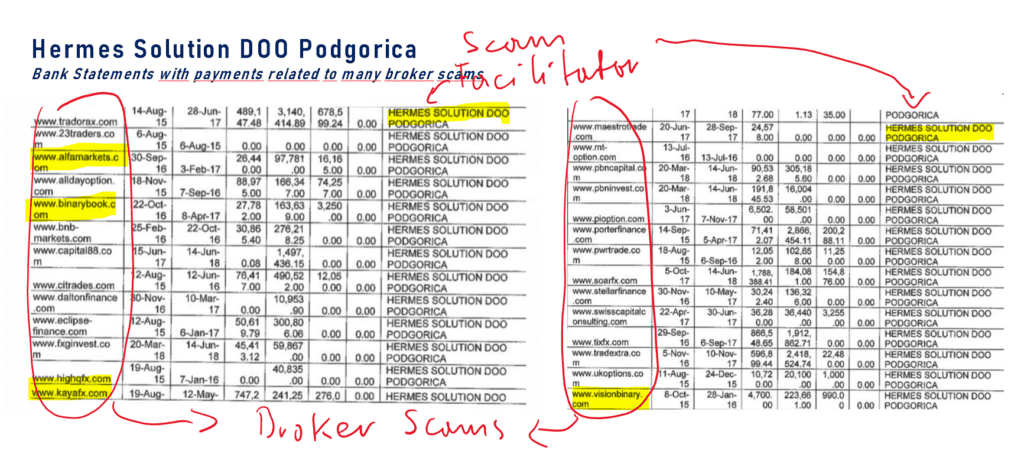 From 2016 on they also used the two licensed Lithuanian companies Bruc Bond UAB (previously Moneta International UAB) and International Fintech UAB for this purpose. FinTelegram was presented with documents by an insider that prove this accusation. The Bank of Lithuania could apparently also confirm this accusation in its audit. Now the two Israelis are apparently withdrawing from the EU. The International Fintech website informs about the cessation of activities. They would merge the business with another company. No further details are given.
The lawsuit against FinTelegram
Eyal Nachum and Tamir Zoltovsky have threatened and sued the publisher of FinTelegram News 2019 in Tel Aviv for libel and defamation. They would never have been involved in binary options and money laundering. Heaven forbid, even religion was used as an argument. In doing so, they supplied the honorable court in their hometown Tel Aviv with false and/or misleading statements and testimonies.
FinTelegram and its publisher regarded Tel Aviv as forum non conveniens but nevertheless informed the court about the developments in Lithuania. Moreover, FinTelegram, provided the evidence to support the allegations and informed the respective authorities. The result is crystal clear. The Bank of Lithuania implicitly confirmed the accusations of FinTelegram News during its investigation in its very essence and thus the alleged defamation became an officially confirmed fact.
The Board of the Bank of Lithuania has revoked the payment institution licence held by Bruc Bond, UAB (formerly UAB Moneta International). Such a decision has been taken in view of non-compliance with the requirements pertaining to its existing licence and serious infringements of legislation regulating the prevention of money laundering (ML) and terrorist financing (TF), as well as inadequate safeguarding of customer funds and the provision of incorrect information to the Bank of Lithuania in its supervisory reports.

Bank of Lithuania Press Release 22 April 2020
Nachum, Zoltovsky and her group of companies disappear from the EU. Nobody will shed tears about it. This is a good development for the safety of the EU financial market.
Let's do Asia
The Bruc Bond Pte Ltd in Singapore is still licensed as a Major Payment Institution by the Monetary Authority of Singapore (MAS) to provide cross-border money transfer services. The business in Asia is supposed to be going reasonably well, one hears from an insider.