For some time now, WGM Services Ltd, registered and licensed in Cyprus, has been offering CFDs to customers through the CySEC-approved domain www.ezinvest.com. The offering is aimed at retail investors around the world and is available in several languages. However, the people behind WGM Services and their companies are not trustworthy and have already been fined by the SEC in the USA in 2016 to a million euro fine and to discontinue their then brands EZtrader.com and GlobalOption.com. They have not yet complied with this ruling. Moreover, FinTelegram learned that Gal Barak and his E&G Bulgaria are the boiler room operators behind the EZinvest scheme. We strongly advise retail investors and payment service providers not to do business with WGM Services.
The SEC Order and harmed US investors
FinTelegram reported that on November 10, 2016, the U.S. Securities and Exchange Commission (SEC) issued a cease-and-desist order against EZTD Inc. The Commission found that, from June 2011 to August 2014, EZTD made offers and sales of binary options to U.S. customers, through EZtrader.com and GlobalOption.com. These binary options constituted securities under the federal securities laws. EZTD, however, failed to register any of its offers and sales of binary options to U.S. customers and it failed to register with the SEC as a broker-dealer. The SEC ordered EZDT to pay a total of $1,773,549.00 in disgorgement, prejudgment interest, and civil money penalties. The SEC also created a Fair Fund, so the penalty, along with the disgorgement and prejudgment interest, collected can be distributed to the allegedly 4,000 retail investors harmed by EZTD's misconduct.
EZTD Inc.incorporated in Nevada in 2002 and reincorporated in Delaware in 2015. EZTD's principal places of business are in Tel Aviv, Israel and Nicosia, Cyprus. During the period relevant to this proceeding, Respondent offered and sold binary options through online trading platforms with and through two wholly owned subsidiaries: Win Global Markets, Inc., an Israeli company, and WGM Services Ltd., a Cyprus registered entity.

SEC Order against EZDT issued in November 2016
Unpaid fines
In May 2019, the SEC said that EZTD has only paid $738,980 toward its obligation as of May 21, 2019, and owes $1,034,569.14 plus interest. Once the due payments are made, the Commission will provide EZTD with a full satisfaction of judgment.
On May 29, 2019, a US court signed a Judgment allowing the SEC to enforce compliance with its order.
The Gal Barak Connection
According to information available to FinTelegram, the boiler room for EZtrader and WGM Services is operated by Gal Barak and his E&G Bulgaria. We have received several confirmations about this. An EU arrest warrant has been issued against Gal Barak early this year. He is currently in Bulgaria and is requested to be extradited to Austria. The next court hearing for extradition to Austria will take place on 7 August 2019 in Sofia. Gal Barak's partner, the German Uwe Lenhoff, has been arrested in January 2019 in Austria and currently is in custody in Germany awaiting his indictment for financial crime, aggravated fraud, and money laundering.
The Wirecard Connection
The payment service provider of EZinvest and WGM Services is Wirecard. The clients of EZinvest are requested to make bank transfers to the account of WGM Services Limited at Wirecard Bank AG to the account with IBAN DE12512308000000061514 for Euro and in GBP to the account with IBAN DE92512308000000058813.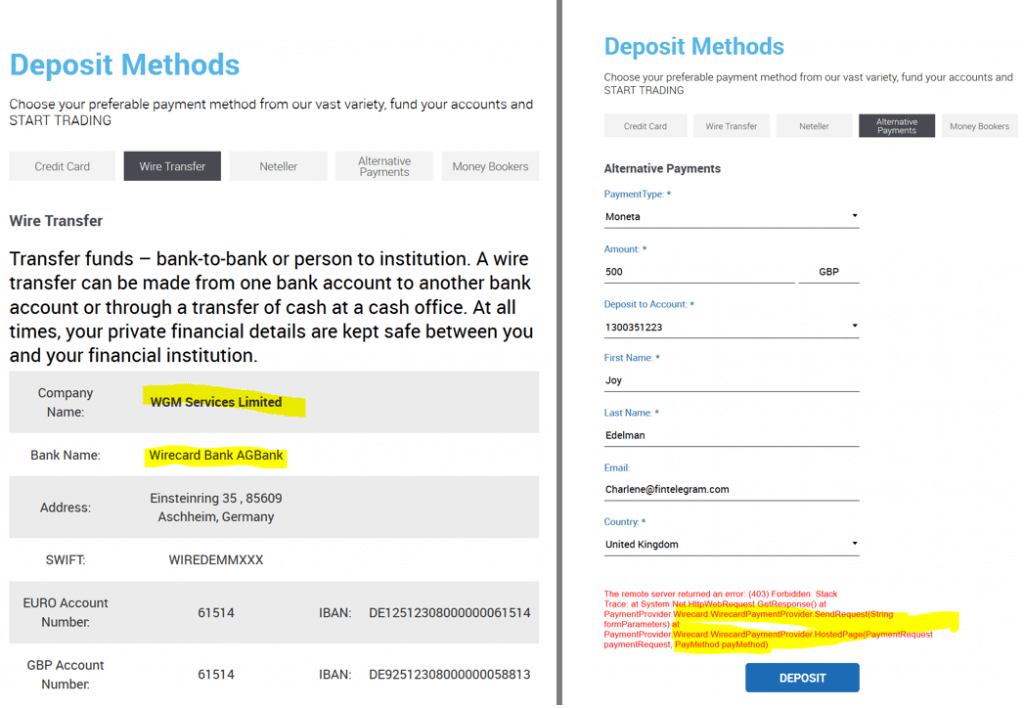 It is astonishing that Wirecard has made itself available as a payment transaction service provider for WGM Services and EZinvest. The prehistory of WGM Services in the USA should ring all the alarm bells at Wirecard. But pecunia non olet, as the ancient Romans knew. Money doesn't stink.
The CySEC Incompetency
It is unbelievable and irresponsible of the Cypriot CySEC and the responsible authorities in Bulgarian that despite the history of these people and the many warnings nothing is done. The CySEC as the responsible regulatory body and the responsible people from the financial market supervisory authority CySEC should be held liable for the losses of the retail investors with these platforms. People get a lot of money for looking the other way. A practice commonly referred to as bribery.